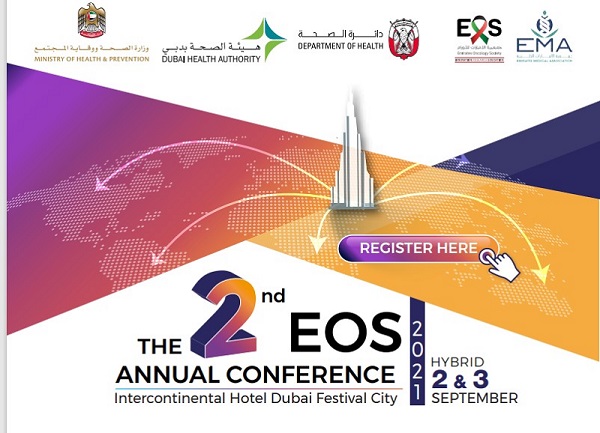 2nd EOS Annual Conference 2021_Endorsement Request_DHA
Welcome to the 2nd EOS Annual Conference 2021, due to unfold on a hybrid format on Thursday September 2nd & Friday September 3rd, 2021 from 8am to 6pm at the Intercontinental Dubai Festival City, Dubai.
The conference aims to bring the latest advances in the management of various cancers, as well as the most efficient models of implementing these updates into clinical practice. The scientific topics selected for presentation and discussion will reflect the most sought-after oncology advances in our region and the foremost research and strategies in oncology care in the USA that directly impact patient wellbeing. Experts from MD Anderson and other renowned cancer centers will place the latest findings into clinical context and discuss how the new outcomes may change the current standards of care.
The 2nd EOS Annual Conference 2021 will deliver up to 15 CME Hrs for the attendees, program to be accredited by the Dubai Health Authority.