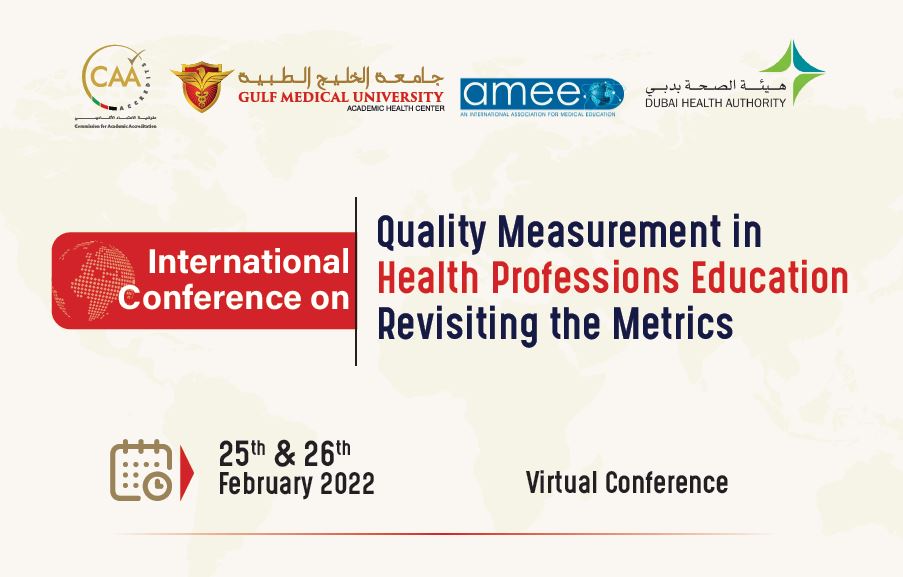 Quality Measurement in Health Professions Education 2022
This international conference reflects the collaboration between the national regulatory body represented by the Commission for Academic Accreditation, Ministry of Education, UAE; DHA, AMEE the leading international Association supporting excellence in health professions education globally and Gulf Medical University, the specialized University in the full spectrum of health professions education.
Assessing the quality of health professions education interventions is a task that appears more difficult than the comparable task with clinical interventions. What to measure? How best and So What? Are important questions but these answers are not stable across different professions and contexts of practice.
Over the last 25 years, health professions education has changed from input orientation to output and outcomes orientations. From how much the graduate knows to what he is able to do and "Can I trust him or her". Assessment of learner and trainees have not kept pace with the new evolving competencies which are highly emphasized in all competency frameworks of all health professions education programs 'undergraduate and postgraduate' – Medicine, Pharmacy, Dentistry, Nursing, Physiotherapy, and others.
The aim of this conference is to create an opportunity for health professionals' educators, regulatory bodies, healthcare authorities and public and private healthcare service providers to interact with experts in the fields of quality and assessment, share experiences, and how to introduce new assessment methods in their own context.
The speakers are scholars and leaders of innovations in health professions education. The conference will be an excellent opportunity to meet, discuss and exchange opinions and best practices in the field of assessment and program evaluation.